Screenwriter/director Michael Yurinko and producer Guy Quigley of Thundersmoke Media recently joined fellow cast and crew for the first public screening of their latest indie-horror film, Impuratus.
The film was screened last month (February 26) at The County Theater in Doylestown Pennsylvania, a place that many of the cast members aren't just familiar with, but call home. The movie stars well-known character actor Tom Sizemore, who passed away on Friday, March 3, after suffering a brain aneurysm. Impuratus was Mr. Sizemore's last significant film. The producers, cast, and crew of Impuratus sent their thoughts and prayers to Mr. Sizemore's family and friends as Hollywood mourned his passing. He is known for his parts in Saving Private Ryan, Born on the 4th of July, Natural Born Killers, and many others.
Many members of the Impuratus cast and crew attended the recent bustling event to celebrate the new movie and honor Mr. Sizemore, who was in intensive care at the time of the screening. 
 A tribute to Sizemore was played after the film followed by a short Q&A facilitated by Guy Quigley and Yurinko. The tribute was compiled and created by Daniel L. McCaughen, a member of Thundersmoke Media, who was chosen by Guy Quigley to be Sizemore's assistant and driver during the making of the film.
Many viewers who attended the screening expressed gratitude towards Guy Quigley and Yurinko for highlighting and representing many popular areas in Bucks County such as the Pennhurst Asylum where a large portion of the film was shot. An announcement on when and where Impuratus can be viewed is coming soon.
Jody Quigley, another star of Impuratus, is part-owner and manager of The Hattery Stove & Still restaurant in Doylestown, located in the heart of the historical Doylestown Inn. The Inn is owned by Jody Quigley, his father, and mother, Guy and Wendy Quigley, Samantha Quigley McCarty, and her husband Todd McCarty, with the operations under the control of Samantha, Todd, and Jody.
 In addition to Impuratus, Yurinko has also directed/written the screenplays for the horror film Entity and the drama Fading.
To date, Impuratus has received 20 awards including a Platinum Award for Narrative Feature from the International Independent Film Awards and a Best Director Award from the First Glance Film Festival for Yurinko. 
Impuratus producer Guy Quigley was not only a producer of the film. He also gave Yurinko many ideas that improved the film, including having a nun at the dying man's bedside instead of a priest. Initially, he said, the script was filled with too much testosterone. Guy Quigley said that he was thrilled that nearly 180 seats were filled during the capacity screening, spilling over into a second theater.
"It was an exciting and rewarding evening," Guy Quigley said. "The movie was accepted with an abundance of applause from the viewers who jumped to their feet during the close of the film."
You had a great turnout at the recent screening, much more than expected. What is that like for you to see so many people excited about your film?
Michael Yurinko: It's fantastic, it really is. To have the responses, the laughs where we hoped people would laugh you know, the little tension releases, it seemed to play well. I wouldn't mind just sitting here watching everybody watch it. Unfortunately, with the circumstances [Tom Sizemore], I wish things were in better spirits. 
After working with Tom Sizemore do you have anything to say about his legacy as an actor? 
Michael Yurinko: It's almost like being a teenager and someone throws you the keys to a Ferrari for the weekend. You're excited and in shock, you don't know what to expect and then it's amazing. That's what it was like for me to work with Tom. 
He was just so selfless, unassuming, just a wonderful person. It's just heartbreaking. There were a couple of times at the beginning of the film we were like, "are we getting this" in terms of footage, and then I learned we are getting this. I talked with Tom and just said "keep doing what you're doing brother, you have this character."
I was particularly impressed with the cinematography of the movie. What was it like collaborating with your cinematographer Mark David?
Michael Yurinko: I always kind of look at filmmaking as making a meal and so we all agree on what we're gonna do. Like we're making Italian so you're gonna bring the pasta, you're gonna bring the oregano you're gonna bring the garlic and everyone knows we're making the same meal.
If somebody is bringing banana pudding then you know, maybe don't hire that person. From the start, everyone on this crew and in the cast was making the same meal. Right there you're starting from a great spot. Mark and I share the same love of movies like Seven and Blade Runner and a lot of noirs, with a lot of heavy lighting. 
When we talked about this film, we knew we were going to shoot with an anamorphic lens. We used a lot of light to get the look of it. Mark was just amazing to work with. The director-cinematographer relationship is a true collaboration. In the scene where we go into the basement to meet Daniel for the first time, I was like, this is like Seven! Fincher would love this shot and then we would fist-bump each other. So yes, I loved working with Mark.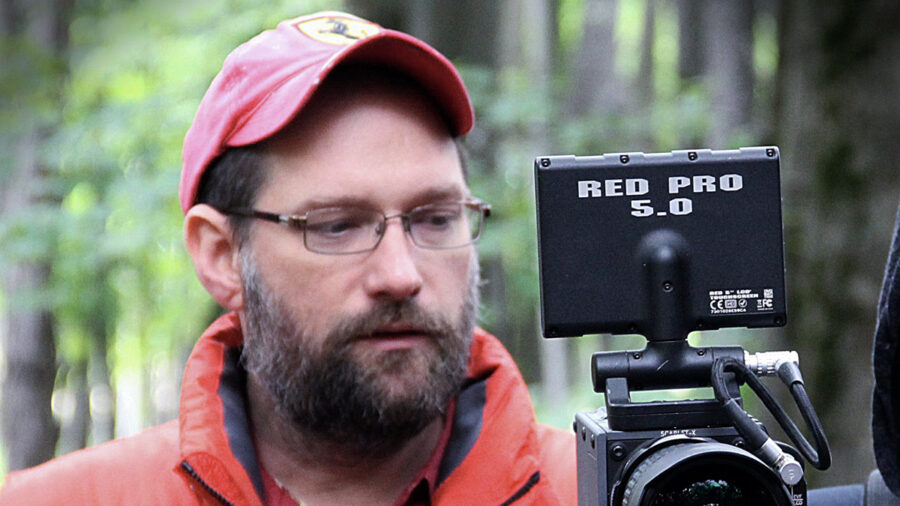 Please describe your relationship with this film, especially as both the screenwriter and director.
Michael Yurinko: I love a lot of movies where the writer is separate from the director. I think if you're a writer/director you know in your soul what you're going after rather than interpreting what another writer may have had. A lot of it is luck, and a lot of it is taste, but I feel as the director of the screenplay I've written, I knew every breath that these characters should be taking. 
You have to be careful because I think you need to be able to know when a better idea comes around. If it fits the story then it's something you should think about. So, I would say don't be too hung up like "it's my script, we can't change this." Know your story so well that when a better idea comes around you can take it and use it to make the story better.
How did you initially meet Guy Quigley?
Michael Yurinko:  We had never met, but he became aware that I was a local movie maker. He invited me and my wife to join him and his wife, Wendy, at the New Hope Film Festival where his last film Apparition was being screened. The film won an award for best supernatural thriller and I was then invited to a public screening of the film at The County Theater to see how the public would accept it.
That's when I saw Jody Quigley in the leading role of Doug, and I instantly knew that he would be ideal for the role of Daniel Glassman in my script. From then on me and Guy established a relationship and continued to communicate. I sent him my script called Impure. He liked the script and asked me to change the name to Impuratus, as there were too many other projects out there under the title Impure. Guy went about raising the funding for the project and it took several years to get the project into gear, however, it's been well worth the time it has taken because we believe we made a great movie; history will tell.
Are you and Guy going to work together on another film? 
Michael Yurinko:  I would love to. I hope so. I actually have the script written for the prequel to Impuratus. It takes place in September, several months before Impuratus. And there are little things in the movie that talks about it. It's the nurse who typed up the confession, it's that story. How was that confession created?
And it's a bizarre, bizarre film. I'd love to be able to do that. Also, Guy is talking about a sequel, I kind of have some ideas but I don't have that one written yet. It is one of four film projects I am ready to start.
For more information, please check out: